Setting Up Your E-mail in Microsoft Entourage
This tutorial shows you how to set up Microsoft Entourage to work with your e-mail account. This tutorial focuses on setting up Microsoft Entourage 2003, but these settings are similar in other versions of Microsoft Entourage. You can set up previous versions of Microsoft Entourage by using the settings in this tutorial.
To Set Up Your E-mail Account in Microsoft Entourage
Open Microsoft Entourage 2004.
Select Tools > Accounts.

Click "New."

If the "Account Setup Assistant" window displays, click "Configure account manually."

Select POP for the account type and click OK.

On the Edit Account window, enter your information as follows:

Account name

Enter "99main".

Name

Enter the name that you want to appear on the "From" line of mail you send.

E-mail address

Enter your e-mail address.

Account ID

Enter your 99main username.

POP server

Your incoming server is mail.99main.com.

Password

Enter the password for your e-mail account.

SMTP server

Enter mail.99main.com for your outgoing mail server.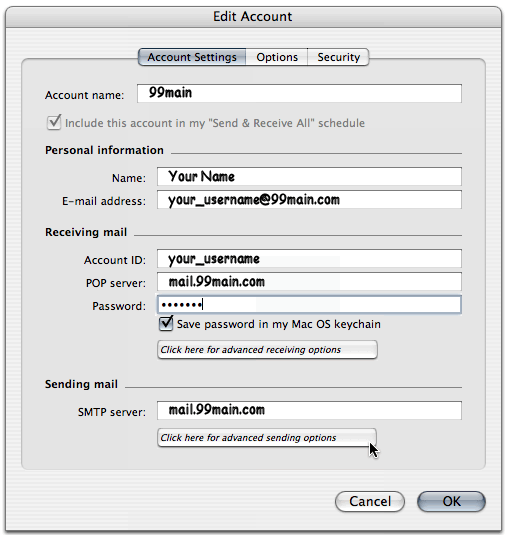 Don't Leave a Copy of Messages on the Server (POP3 Only)

Select Entourage / Account Settings.
Click the Mail tab.
Double-click your mail account, as it appears in the list.
Click the Options tab.
Uncheck the "Leave a copy of each messages on the server" box.
Click the OK button.
Click the Close button, located in the upper left corner, to close the Accounts window.